On March 1, 2019, Catie Clobes tragically lost her six and half month old daughter, Evee, a day and a half after receiving six vaccines at her six month doctor's visit.
Conversation with Autopsy pathologist: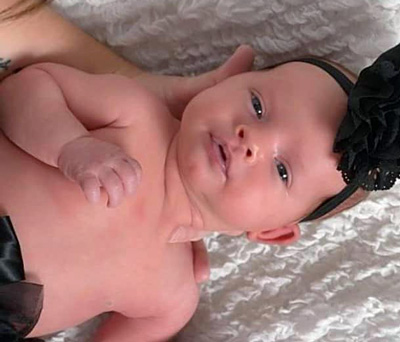 Update from Catie 3/22/19:
Me: "I know this is going to sound morbid, but it sounds like with everything you're saying to me, my daughter basically "took one for the team", right?"
Pathologist: "I don't even know what to say to that."
I just finished up a very heated, baffling phone conversation with the very "cold" doctor who performed my daughter's autopsy. The autopsy is pretty much complete on their end, there have been no answers, it's at a finalizing paperwork phase. My mother was in the room when this call took place, she heard this all! I'm not exaggerating a thing. After several calls this week to try and get this doctor on the phone, I sent an email today requesting the simple additional tests that I wanted done in my daughter's autopsy. I was assured the day of my daughter's death by that office that "every test" would be performed, that her receiving vaccinations a day and a half prior was of concern, and they'd be running "those kinds of tests", that they took infant deaths very seriously. I believed them. These simple tests I requested would reveal if vaccinations had played any part in my daughter's death. Well less than an hour after sending that email, I finally got that doctor to call me back! She refused to do the tests, each and every one.
Me: "My daughter was in perfect health and then received 6 vaccinations and died a day and a half later. Why wouldn't you run ANY tests to check if vaccinations were the cause?"
Pathologist: "It's not medically necessary, there is no medical reasoning, and it's not medically approved."
CERTIFICATE OF DEATH "UNDETERMINED"